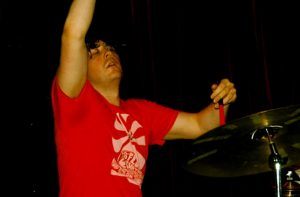 David Rozenblatt is a platinum selling and Grammy nominated drummer and percussionist, as well as an accomplished composer. He has collaborated with some of the finest talents in pop, jazz and classical music. Since joining Barry Manilow in 2003, David has appeared to sold out stadiums and arenas all over the world and recorded chart-topping, Grammy and Emmy winning albums and DVDs.  He received two Grammy nominations for both classical and pop genres: Absolute Ensemble's Absolution (Best Small Ensemble Performance) and Barry Manilow's platinum selling In The Swing of Christmas (Best Traditional Pop Vocal Album).  Both recordings feature David with The Matt Herskowitz Trio, whose albums, Forget Me Not and Jerusalem Trilogy earned Best Contemporary Jazz Album nominations from both the Felix and Juno Award Academies.  As the percussionist on the Grammy Award winning NBC special, Tony Bennett Celebrates 90 (Best Traditional Pop Vocal Album) David played with an all-star line up including Stevie Wonder, Diana Krall, k.d. lang, Lady Gaga, Michael Bublé, and with Leslie Odom Jr on his percussion-driven rendition of Autumn Leaves.
David has composed five original ballets.  Three Point Turn, written for legendary prima ballerina Diana Vishneva, Desmond Richardson and the Kirov Ballet, won numerous Golden Mask Awards including "Best Ballet" and the "Critic's Prize."  Othello, written for the Charlotte Ballet, premiered to an ecstatic audience and stellar reviews. Dirty Wire, Imprint Maya and Chronicle were all written for Complexions Contemporary Ballet, based in New York City and touring the world. Imprint Maya debuted in Los Angeles at The Dorothy Chandler Pavilion, and was featured in the LA Times.

David's instrumental works include "Dispute In Conclusion Unplugged" composed for Seattle Symphony's Chamber Series. Of it, Bachtrack wrote, "Of the 21st-century composers, David Rozenblatt stole the show…[His score] left the audience breathless before they shouted a collective 'Wow!'". Flux (2018) written for a full symphony and commissioned by the Baltic Sea Philharmonic premiered at Abu Dhabi's Emirates Palace and at the Dubai Opera House.
David has worked with Paul Simon, Elton John, Bruce Springsteen, Neil Diamond, John Legend, Andrea Bocelli, Esperanza Spalding, The Killers, Usher, Baby Face, Reba McEntire, Cindy Lauper, Donna Summer, David Foster, Kesha, Kristin Chenoweth, Katherine McPhee, Jennifer Hudson, Little Anthony, Bobby Womack, Dr. John, Darlene Love, Audra McDonald, Ornette Coleman, Paquito D'Rivera, Dave Koz, Joe Zawinul, Pierre Boulez, Dimitri Hvorostovsky, Vladimir Spivakov, Elliot Carter, Will Ferrell and Bill Murray.  He can be seen performing on the Grammy Awards, numerous Rock n' Roll Hall of Fame specials, The Emmy Awards, The American Music Awards, The Tonight Show Starring Jimmy Fallon, Jimmy Kimmel Live, Late Show With David Letterman, VH1, and the BBC.
Born in Kiev, Ukraine, David moved to the United States at the age of four. The following year, he started playing drums professionally and years later received his Bachelor's and Master's degrees from The Juilliard School.  He devotes time to music students of all ages (in person and online) and records for various artists, TV shows and films from his studio in New York, PencilFactoryRecording.com. David proudly and officially endorses © LATIN PERCUSSION (LP), YAMAHA Drums/Percussion, VIC FIRTH Stick/Mallets, and REMO Heads.
REVIEWS
JAZZLOCAL32.COM
David Rozenblatt's drumming fascinated me. It was joy-filled, wildly exuberant but purged of unnecessary clutter. Many of the younger drummers I hear are time tricksters, and while this is impressive it can also clutter up a sound canvas. Rozenblatt had something of the swing drummer about him, but overlaying that was a colourist sensitivity, the warmth of a great rhythmic conversationalist. By John Fenton.
DISPUTE IN CONCLUSION UNPLUGGED
Commissioned by Seattle Symphony
Bachtrack
"Of the 21st-century composers, David Rozenblatt stole the show…[His score] left the audience breathless before they shouted a collective 'Wow!' "
Lutosławskian Seattle Symphony Celebrates American Composers
"…striking…raucous [and] pulsing…devilishly amusing."
OTHELLO
Commissioned by Charlotte Ballet
Classical Voice of North Carolina
"[The score] contains all the peculiar variety and rich strangeness of music in a dream…Visually and aurally, this is a world complete…. Its conception is brilliant; its undertaking enormous and full of risk."
Creative Loafing Charlotte
"…easily the most visually arresting and dramatically compelling choreography that Rhoden has brought to us, [the visual production] meshed beautifully with Rozenblatt's score…"
THREE POINT TURN
For Diana Vishneva and the Mariinsky Ballet (Kirov)
WINNER: 2 Golden Mask Awards and the festival's Critics' Prize
Los Angeles Times
"…turbulent, exciting…"
Moscow Times
"…a high-energy, sexually charged romp onstage."
Arts Journal
"…pointedly unlike the material [Vishneva] dances with her home company or with American Ballet Theater…Complexions Dance Company provided the most striking piece, "Three Point Turn."
Gay City Times
"…an excellent and unusual score…"
IMPRINT/MAYA
Commissioned by Complexions Contemporary Ballet
Oregon Artswatch
"…a quietly intense and almost jointless fusion of sight and sound and emotion.
"This work, with its cold clear vision of 'these days of bloody screaming' and its corresponding, improbable sense of grace, is for me the highlight of the evening."
North Texas Performing Arts News
"…passionate vocals set against piano and minimal strings offered a blank slate for Rhoden to experiment"
Living Out Loud Los Angeles
"A Modern Twist on the Traditional…a highlight."
Fjord Review
"…a beautiful collaboration, with David Rozenblatt bringing us a stunning piece of his music."
DISCOGRAPHY
2020   PLR Trio  Jazz Organ Trio with New Arrangements of 5 Barry Manilow Compositions CD
2020   Extension – Svjetlana Bukvich CD
2019   The Bronx, USA HBO
2018   Andrea Griminelli and Matt Herskowitz Trio – Bach Reimagined CD
2018   Shoshana Bean  – Spectrum  CD/LP
2017   Kristjan Jarvi, Absolute Ensemble, MDR Leipzig Radio Symphony Orchestra – Philip Glass: Aguas da Amazonia
2017 (FELIX NOMINEE)   Matt Herskowitz Trio – Forget Me Not  (Producer/Musician) – CD
2016   (GRAMMY WINNER) Tony Bennett/Lady Gaga – Tony Bennett Celebrates 90 NBC Special, Columbia Records
2015   Matt Herskowitz Trio and Philippe Quint – Bach XXI  CD
2015   A Very Murray Christmas (A Netflix Original) NETFLIX
2014   Barry Manilow – Live From Paris Las Vegas DVD
2014   Le Refuge Indie short film
2012   David Rozenblatt – Dirty Wire  CD
2012(WINNER 3 GOLDEN MASK AWARDS)  David Rozenblatt – Three Point Turn  CD
2012   Barry Manilow – The Classic Christmas Album CD
2012   Barry Manilow – Live in London DVD/CD
2011 Jim Bauer And The Weimarband – Songs Of The Blue Flower CD
2010   (JUNO NOMINEE) Matt Herskowitz (Trio) – Jerusalem Trilogy  CD
2009   David Rozenblatt – Othello  CD
2009  (GRAMMY NOMINEE/PLATNUM)   Barry Manilow/Matt Herskowitz Trio – In The Swing Of Christmas  CD
2009   Manuel Mijares – Vivir Así  CD
2008   Barry Manilow – Happy Holiday A&E Live By Request Christmas Special

2008   Barry Manilow – The Greatest Songs Of The 80's  CD
2008   Sheera Ben-David – On A Carousel  CD
2008   Sound Liberation – Days  CD
2008. (EMMY WINNER) Barry Manilow – Songs From The Seventies DVD PBS SPECIAL
2007   Barry Manilow – The Greatest Songs Of The 70's  CD
2007   Gheorghe Costinescu – A Live Retrospective: 1952–2002  CD
2006(3 TIME PLATINUM/No. 2 BILLBOARD)   Barry Manilow – Music and Passion  DVD
2006   Perfume: The Story of a Murderer Original Motion Picture
2006   Barry Manilow – First and Farewell  DVD
2006   Absolute Ensemble – Arcanum  CD
2006   Dagmar – Door No. 1  CD
2004   Beth Anderson – Swales and Angels (New World)  CD
2003   Elliot Goldenthal – S.W.A.T. Original Motion Picture
2002Absolute Ensemble – FIX  (Producer/Musician) CD
2002   Weimarband – Sturm n' Twang  EP
2001   Martin Kuuskmann with Bill Schimmel and David Rozenblatt  – Archipelago – Archipelago  CD
2001 (GRAMMY NOMINEE)   Absolute Ensemble – Absolution  CD
2000   Absolute Ensemble – Absolute Mix, A Live Recording CD
2000   Paquito D'Rivera/Absolute Ensemble – Habanera  CD
1999   Absolute Ensemble – Adams/Schoenberg Chamber Symphonies  CD
1999   Absolute Ensemble – Architectonics  CD
1996   Ensemble Xenakis USA – Ensemble Music, Vol. 2  CD
1996   Carter Burwell – The Chamber  Original Motion Picture
1996   The Matt Herskowitz Trio – Lucid
OUT OF PRINT  Contact David Rozenblatt for a copy.